What is a Zippo?
A Zippo lighter is a refillable, metal lighter, manufactured by the Zippo Manufacturing Company. Zippo lighters are naphtha fueled lighters that burn from a wick. Zippo lighters gained popularity as "windproof" lighters, able to stay lit in harsh weather, due to the design of the windscreen and adequate rate of fuel delivery. Zippo lighters are many times seen as a collectable rather than an everyday lighter. Zippo lighters come in a wide variety of styles and designs, many of which are vintage or limited edition.



How does a Zippo work?


Inside the case are the works of the lighter: the spring-toggle lever that keeps the top closed, the wick, windscreen, thumb wheel, and flint, all of which are mounted on an open-bottom metal box that is slightly smaller than the outer case, and into which it slips snugly. The hollow part of the interior box encloses a rayon batt which is in contact with the wick. The fuel, a volatile flammable liquid commonly known as lighter fluid (usually naphtha), is poured into the batt, which traps it. It also contains a tube that holds a short, cylindrical flint. The tube has an interior spring and exterior cap-screw that keeps the flint in constant contact with the exterior thumb-wheel. Spinning this rough-surfaced wheel against flint results in a spark that ignites the fluid in the wick. The batt normally has a small hole in newer models to facilitate easier filling of lighter fluid, and is often misconstrued as a place to store extra flints. All parts of the lighter are replaceable.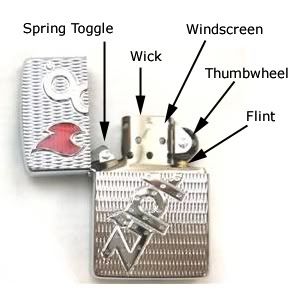 Zippo Diagram (Zippo 20991 High Polish Armor Chrome, Zippo Bolted)
Spring-toggle - A small lever that keeps the top of the lighter from flying open when not in use, or shutting quickly when in use.

Wick - A Strip of porous material which liquid fuel is drawn by capillary action. The wick is saturated in the Naphtha fuel and when sparked, ignites.

Windscreen - A chamber surrounding the wick to keep the wind from blowing the flame out. The chamber has a series of sixteen holes to provide the fuel and flame oxygen to continue burning.

Thumbwheel - A small rough surfaced wheel, when turned by the thumb rubs against the flint to create a spark.

Flint - Composed of an alloy of rare earth metals containing approximately 50% cerium and 45% lanthanum, with small amounts of neodymium and praseodymium. When scrapped against a rough surface, it produces a spark.
Selecting a Zippo
Zippo Types




Pocket

- A pocket Zippo lighter consists of any of the originally designed Zippo lighters. These lighters are about 1 ½ inches wide, a ½ an inch thick and about 2 ¼ inches tall. Pocket Zippo's are very compact and fit in most pockets. Pocket Zippo's are ideal to have when you carry a lighter with you everywhere you go. Pocket Zippo lighters are filled with Naphtha liquid lighter fluid.



Multi-purpose

(MPL) - Multi-Purpose lighters are designed for lighting things from a further distance. They are not as compact as the pocket lighter. These lighters are about an inch wide, ½ an inch thick and about 8 inches tall. Multi-purpose lighters have a turn dial on the bottom to adjust the flame, as well as a built in child proof switch and button which must both be pushed and pressed at the same time. These lighters are ideal when lighting fires, barbecues, candles etc. Multi-purpose lighters also come in a mini size, which are half of the length of the original design. Unlike the pocket lighter multi-purpose lighters are filled with butane gas.



Outdoor Utility

(OUL) - Outdoor Utility Lighters are very similar to the multi-purpose lighter. The outdoor lighter contains a clip and strap so one can easily attach the lighter to clothes or bags. The handle on these lighters is more rugged, which makes the lighter easier to hold and grip during different situations. At the handle of the light is a built in LCD light. This makes it easier to see when you may be lighting things in the dark such as a campfire. Attached to the top of the handle is a string with a waterproof cap to place on the top of the lighter when in environments that entail water like substances.



Zippo Styles




Painted

- Painted Zippo's refer to the design painted on the Zippo's cover. Generally painted tops lower the value of the Zippo itself.



Slim

- Slim Zippo's are the same length of a normal Zippo, but only about 1 inch wide. These Zippo's are designed to be even more compact than the original design.



Emblem

- Zippo's with emblems essentially have a pop-out effect. The design is made and placed on top of the actual Zippo. These designs are usually a lot more detailed than a painted or engraved design.



Engraved

- These Zippos have engraving carved into the Zippo surface. These designs typically do not have as much detail as many of the other design styles.



Limited Edition

- Zippo's that are considered limited edition, typically have a really high value. There is a limited number of that particular design made. Usually limited edition Zippo's have the chronological number of the order in which it was made, as well as the total number made engraved somewhere on the Zippo itself. Meaning, if you buy a limited edition Zippo that was produced as the 150th one made, and there were a total of 300 made, the engraving would be 150/300. Other Limited Edition Zippo's also usually come with some sort of certificate to prove that there is only a limited number made and to prove its authenticity.
Auto Engrave
The crisp, clean jewelry look of auto engraving has become one of the most popular methods of customization. Skilled operators use either rotary engrave or diamond cut method to inscribe an image into the product using creative fill patterns. A dimensional effect can be achieved by using directional fill patterns. Also known as Rotary Engraving or Computer Engraving.
Laser Engrave
This state-of-the-art process allows Zippo tremendous flexibility when reproducing your artwork on our products. Our laser engravers are computer programmed to generate accurate replication of your imprint. Also known as Laser Mark.
Lustre
Zippo's signature lustre etch method produces an attractive durable imprint. The artwork is etched into the lighter and plated for a permanent mark. A beautiful contrasting effect is created. Used only on plated finishes.
Etch and Paint
A legendary process, Zippo's etch and paint method produces an attractive durable imprint. The artwork is rendered to display a vintage effect. The image is etched into the plated lighter, then colorfilled in the cavities. Also known as Etch and Color or Colorfill.
Surface Imprint
A longstanding popular method, surface imprinting is a silk-screening process using a separate screen for each color. Durable epoxy ink is applied to the finish one color at a time, building a rich and vibrant image. The product is cured, bonding the epoxy imprint to the surface where it becomes an integral part of the finish. Also known as Screen Printing or Silk Screening.
Color Imaging
Transfer printing method allows up to 5 spot colors to be imprinted onto the lighter surface. Color Imaging (4 Color Process) Special cliches are created to allow four color process printing. A 300 DPI photo is required for crisp accuracy. CMYK colors are used to create a photographic image. Also known as Pad Printing.
Luxury Custom Imprint Methods
Contrast is achieved when Zippo engraves in two different depths. Vibrant Chrome and brass engraving allows for a "gold and silver" effect.

Zippo's lasers can be programmed utilizing two different depths, creating a unique contrast within the image.

Zippo combines Laser and Auto Engrave processes to achieve a jewelry look.
When rendering art, an area of design is opened up displaying the base finish.

When rendering artwork, artists use a unique filter to give the art a pocket worn effect.

Zippo applies a clear epoxy image along with additional links to achieve a "ghosted" effect.

By applying textured layers of ink, a stucco look can be achieved. Small icons or patterns can be selected by design.

Special Note for Zippo Collectors
When looking for Zippo's to purchase as a collectable, make sure you are not buying an already used Zippo. Zippo's that have already been lit lose their value. You want to be sure to look for the bright orange sticker on the back of the Zippo, that secures the hinged lid to the body of the Zippo.