Adding fuel to your Zippo Lighter
Step-by-step Guide for filling your new Zippo lighter with Zippo Lighter fluid
Refillable Zippos

Zippo Lighters

are known for being "refillable lighters." However, when you open the lid to the lighter, the method of refilling can be deceiving. Zippo lighters have small liquid fuel holding tanks that must be refilled occasionally in order for the lighter to operate properly. In order to refuel (or fill for the first time out of the box) a Zippo lighter you have to fill the tank containing cotton on the bottom of the lighter with Zippo lighter fuel.















Pulling Out the Zippo

Begin by opening the lid of the lighter, then place your fingers on the windscreen and gently pull up. This will release the inner section from the outer case and lid, exposing the open bottom metal box that contains all the works of the lighter. Turn the metal box upside down, and you will see a portion of cotton that says lift to fuel.

Where to Fill The Zippo

Gently lift the cotton and you will see another portion of softer and loose cotton. While holding the metal box upside down at the windscreen, pour the Zippo lighter fluid into the cotton. NOT THE PART THAT SAYS, LIFT TO FUEL.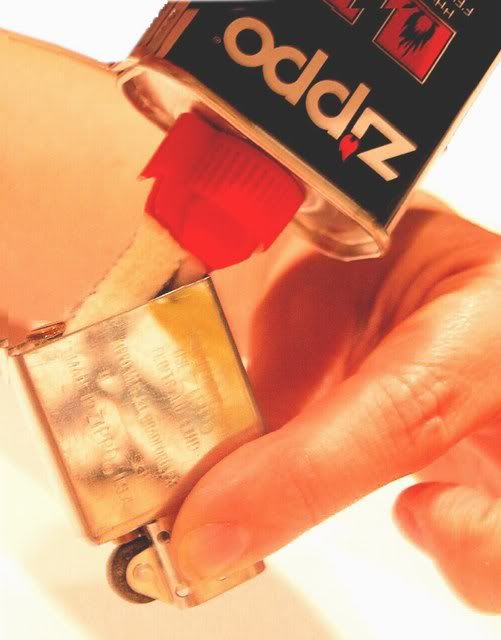 Filling A Zippo

Wait a couple of seconds and turn the metal box back over and place back into the Zippo case. Let the Zippo sit for about a minute before you light it. This is a safety precaution just in case some of the Zippo fluid spilled around the lighter. If the lighter does not light, add more lighter fluid to the bottom.